Vienna: Guide to Vienna
Oh Vienna. I have to say, I was not expecting Vienna to be so…. romantic?! My entire experience felt like one out of a fairytale book. I had seen pictures of the beautiful architecture that awaited me upon arrival, the tantalizing cakes and sweets that seemed to be at every shop, but wow that didn't prepare me for the regal opulence of this city. If Vienna is on your list of places to hit, be prepared to have your breath taken away over and over again.
We spent four days and three nights in Vienna. This just put a small dent into all the incredible things you can experience in Vienna, but it did give us a good highlight of this beautiful city. When I provide itineraries and guides I always like to share the address (when applicable) and the cost (though this is subject to change so do your research before departing). I hope this helps you plan a wonderful trip to Vienna! Drop a comment below if you're heading to Vienna or if you have any further questions.
Vienna Day 1
We arrived to Vienna via train as we were previously in Budapest. After arriving we took the metro to our hotel. This portion of the trip we opted to stay in a hotel/hostel; now let me go on the record and say that hostels are not my favorite type of accommodation, I'm usually a more umm… 'higher end scored on a great deal' type of gal, but sometimes you got to try new things. I've stayed in this brand of hostel's before, Meininger (they're found all over Europe) and really it's more of a cheap hotel than a hostel. Beth and I shared a private 2-bed ensuite room. It was clean, quiet, and simple. The door had a lock and a 'do not disturb' sign for the cleaning staff so I felt a little better about leaving stuff in the room. Breakfast was included in the rate too which did save a little extra spending money. Overall, it was totally acceptable and it was convenient as it was just one block away from the metro.
Here's the link to the hostel if you're interested in learning more about the brand.
Oh I forgot - we purchased the Vienna Pass while we were at the train station. Now let me preface that I usually don't buy these because usually I don't use them enough to make it worth it. However, when I was planning my itinerary I realized most of the things I was planning on seeing were included in the Pass and was actually going to save a bit of cash… so we went for it. It's worth it only if you plan to go see a lot of museums and such. If you're interested, check it out here.
So we arrived in Vienna around lunchtime. We took the metro to our hostel, checked in, dumped our stuff and then took the metro back into the central of town (around the State Opera exit) and walked around a bit. We were starving so we wandered around and stumbled into a café just in the nick of time to duck out of the rain. The place we ended up stopping in was Café Schwarzenberg which ended up being a historical café! Opened in 1861, politicians, writers and intellects would gather here for traditional Viennese afternoon coffee and stir away boredom and the chilly winter days. I ended up having a traditional dish called Eiernockerl which is best described as an Austrian noodle dish with eggs. It looked… strange, but was actually quite yummy. Beth had Spinat-Käse-Studel which was a spinach strudel. I love trying traditional foods in different countries, always an experience!
At this point it was mid-afternoon and we walked back towards the State Opera House. We didn't have specific plans for the day since it was our travel day; we just wanted to walk around the city and explore and get our bearings. One of the things I was dying to do when in Vienna was see an opera. I had looked at tickets ahead of time and they were either completely sold out or incredibly expensive, so I had to pass. However, on a whim, I decided to walk up to the ticket office of the State Opera House and see if they had any last minute deals for any of the operas that week. We walked up to the little man in the booth and low and behold he had a couple return their tickets just prior to us getting there and he was willing to sell them to us at half price for that evening's opera!! I was ecstatic! I couldn't believe it! I was in Vienna and was going to see an opera at the State Opera House!! See what I mean about fairytale…?
We had some time to kill before we had the Opera that evening so we spent the rest of the afternoon wandering around town and witnessing some of the architecture.
Finally, we popped back to our hostel and got ready for the Opera that evening (eeeeek) and then headed back (via the metro) to the State Opera House. Luckily I had packed a dress for the trip. After walking up the steps of the Opera House, we were ushered inside and into the absolutely remarkable and breath-taking lobby. It was covered in gold embellishments, gilded walls, lush red fabric, and crystal chandeliers. It was like stepping straight into a scene from Cinderella! Soaking it all in, we took the opportunity to embrace how the "other half" live and purchased champagne and macaroons to sip and much on before we had to take our seats. I mean does it get any better?
The opera we had the pleasure of seeing was Giuseppe Verdi's "Un Ballo in Maschera". No, I had never heard of it before, and no, I had no idea what it was about originally however the acting and singing draws you in and enthralls your attention. It was an absolutely magical experience to be sitting in a place that so many affluent and important people had sat for hundreds of years prior, witnessing with the same expectant anticipation of incredible art forms and talent.
Following our evening at the Opera, we walked the few blocks to the infamous Hotel Sacher. Why is it infamous? For a dessert of course. The Sacher torte was created here, hence it's namesake, in 1832 and stands as one of the famous and traditional desserts of Vienna and Austria. We indulged in the Sacher torte as well as hot chocolate…because what goes better with chocolate than chocolate?! As I was sitting there I was struck by the absolutely incredible once-in-a-lifetime experience this all was: the opera, horse-drawn carriage rides, Sacher torte…all while sitting in one of the most beautiful cities in the world.
It was a night straight out of the fairytales.
Vienna Day 1 Itinerary
Arrive in Vienna (via train) and check in to accomodations (purchase a metro pass, you'll thank you me later)
Metro into the city center (get off at State Opera stop)
Café Schwarzenberg for lunch | Kärntner Ring 17, 1010 Wien, Austria
Walk around town to get a feel of the layout, or catch one of the hop-on-hop-off buses in town to get a feel for the city (if you get the Vienna Pass this is free)
Stop by the State Opera House to see about tickets for opera | Opernring 2, 1010 Wien, Austria
Explore town on your own
State Opera for show | Opernring 2, 1010 Wien, Austria approx. 40 € +
Hotel Sacher for dessert at the Café Sacher Vienna | Philharmoniker Str. 4, 1010 Wien, Austria | 7,10 €
Vienna Day 2
Today was our first full day in Vienna. We had breakfast at the hostel and headed out pretty early by metro to Schönbrunn Palace. It was super simple to get here via the metro. Take the U4 and get off at the "Schönbrunn" stop and then follow the directional signs to the actual palace - it's probably about a 5 minute walk. The palace is extaordinary and it's roots go back to the 1500s, so I mean it's literally dripping with history. There are many ways to see Schönbrunn: guided tours, audio tours, tours of the palace and the gardens, just a tour of the palace… there are so many options that will be able to fit whatever your desires.
After our tour of the palace, we toured the gardens and up to the Gloriette. The colors were changing and the backdrop was magnificent!
After spending some time in the garden we walked over to Café Residenz, which is the local on-site café at the Palace where we warmed up with lunch and hot chocolate (because when in Vienna right…?!) Side note, there are so many incredible sweets and treats in Vienna… our entire diets were comprised of sugar and carbs on this trip I believe. Before you sit down for lunch, stop next door at the Strudelshow (I know - it sounds ridiculous - but it was so much fun!) and put your name on the list for the next show.
We finished our lunch and then headed down to the Strudelshow where they explain the history of the apple strudel, give a live demonstration, and the best part- your own sample of traditional strudel! I was even called up to dawn an apron and hat and help the chef bake the puffy pastry, so fun!
Once we had our fill of apple strudel, we took the metro line back into 'downtown' Vienna by the Opera House and got off and walked to the Albertina. The Albertina is a museum that houses an impressive art collection as well as the Habsburg State Rooms and is connected to the Saint Augustine's Cathedral. If you don't have time to do it all, you must absolutely go to the State Rooms - they're exquisite!
Seriously —- how gorgeous are these rooms?! Can you believe families live here?
Just down the street from the Albertina is the "State Hall of Austrian National Library" or Österreichische Nationalbibliothek. I'll call it one of the most beautiful libraries in the world; can't you imagine Belle riding ladders up and down the massive book shelves?
After a sufficient amount of wandering and drooling over the incredible books and architecture, we made our way towards Stephansplatz Cathedral. We weren't planning on going in but they were having a free concert that evening so we popped in. Wouldn't you know it, there was an American choir preforming and it was like straight up "Sister Act" style. We sat and enjoyed the performance for a while and then ventured back out to try to find dinner. On our way to find dinner however, we came across "Time Travel Vienna" - it was something I had seen in our Vienna Pass book and figured we were right there, why not! We made a pit stop at this (tourist attraction) but we had a few good laughs in the process. It's a bit cheesy, but it did give you a good historical framework for Austria and Vienna. It's interactive so you walk through the historical eras of Vienna including construction, the plagues, age of the arts and modern time. If you have the Vienna Pass and stumble across it, it's worth a visit, ha.
Alright, anyways we had no specific plans for dinner and ended up down a side street and came to Gasthaus Poschl. It was packed and had a long weight for dinner but we were able to snag two seats at the bar for a glass of wine and enjoyed people watching for a while. I love sitting at the bar and people watching in different countries; it's so fascinating to see how people interact in different cultures, their mannerisms, their language. Take the time to sit and relax and enjoy the moment around you, that's when you learn a lot about yourself.
Since we weren't going to eat at Gasthaus Poschl, we had to find a place for dinner. It was luck that we came across this gem called Kellergwölb, Mnozils Gastwirtschaft und Wiener Restaurant. They serve traditional Austrian fare with a little twist here and there. This is the place where I first had Wiener Schnitzel (which in my opinion is something you absolutely have to try while in Austria) and I was pleasantly surprised at how tasty it was. In traditional fashion it was served with boiled potatoes and this tart/sweet jam like sauce. Honestly, it was delicious!
Stuffed and happy, we returned to our hostel for the evening.



Vienna Day 2 Itinerary
Schonbrunn Palace Schönbrunner Schloßstraße 47 | 1130 Wien, Austria | 17.50 € or free with Vienna Pass |
Gloriette at Schonnbrunn Palace | 3.80 € or free with Vienna Pass |
Maze at Schonbrunn Palace | 5.50 € or free with Vienna Pass |
Oangerigarten at Schonbrunn Palace | 3.80 € or free with Vienna Pass |
Apple Strudel show at Schonbrunn | 6 € or free with Vienna Pass |
Lunch at Café Residenz | on site at the Palace by the gardens
Albertina Albertinaplatz | Albertinaplatz 1, 1010 Wien, Austria | 12.90 € or free with Vienna Pass |
State Hall of Austrian National Josefsplatz 1, 1015 Wien, Austria 7 € or free with Vienna Pass |
Stepheansplatz Cathedral | Stephansplatz 3, 1010 Wien, Austria | Free to enter but paid tours
Time Travel Vienna | Habsburgergasse 10a, Vienna 1010 | 19.50 € or free with Vienna Pass |
Drink at the Bar | Weihburggasse 17, 1010 Wien, Austria
Dinner at Kellergwölb, Mnozils Gastwirtschaft und Wiener Restaurant | Seilerstätte 13, 1010 Wien, Austria
Vienna Day 3
On our third day in Vienna we started off with breakfast at the hostel again and hit the ground early to see the famous Spanische Hofreitschule (Lipizzaner stallions) morning exercise. All the tickets were sold out by the time we booked our travel arrangements so the only way to actually see these beauties in action was to attend a morning exercise program. The practice starts at 10:00 a.m. local time so we got there about 9:20 a.m. to stand in line to purchase tickets. You couldn't take pictures, so I was only able to capture a few before I realized you weren't supposed to take photos of the horses (oops). Practice lasts from 10 a.m. - Noon but you can leave whenever during that time frame.
Right across the circle from the Spanish Riding School was the Sisi Museum so we popped in there to learn about the iconic Empress Sisi. We absolutely loved this museum, especially after learning about hear earlier the previous day at the Palace. The entire museum was dedicated to the Empress, her early life, her marriage, her role as a mother, and ultimately her untimely death. Her life was actually quite sad, you left feeling such empathy for the woman who didn't want to be Royal.
After completing our time at the Museum we went out to find refreshment and came to Café Diglas. It was a traditional Viennese coffee house and of course, we finished off with a new Austrian dessert and a latté to fortify ourselves for the chilly afternoon.
Next we went back to St. Stephen's Cathedral to actually spend time and tour the cathedral. We opted not to do any of the tours but in hindsight I wish we had down one of the tower tours or something because it was an amazing gothic cathedral. I absolutely adore cathedrals for their magnitude, their history, and the overall calm and peace I feel when I'm in the hallowed halls of these cathedrals that have hosted thousands of people over the years. It gives me chills. If you don't stop at cathedrals or churches on your visits, I definitely encourage you to stop at one or two- it's a great experience.
We took the metro line up to Karlsplatz area afterwards to visit Belvedere Palace, another palace that the Emperior family occupied during their time in Vienna. The Belvedere Palace hosts wonderful art including the iconic "The Kiss" by Gustav Klimt! We spent a few hours here exploring all the halls, the different artwork that spanned the decades.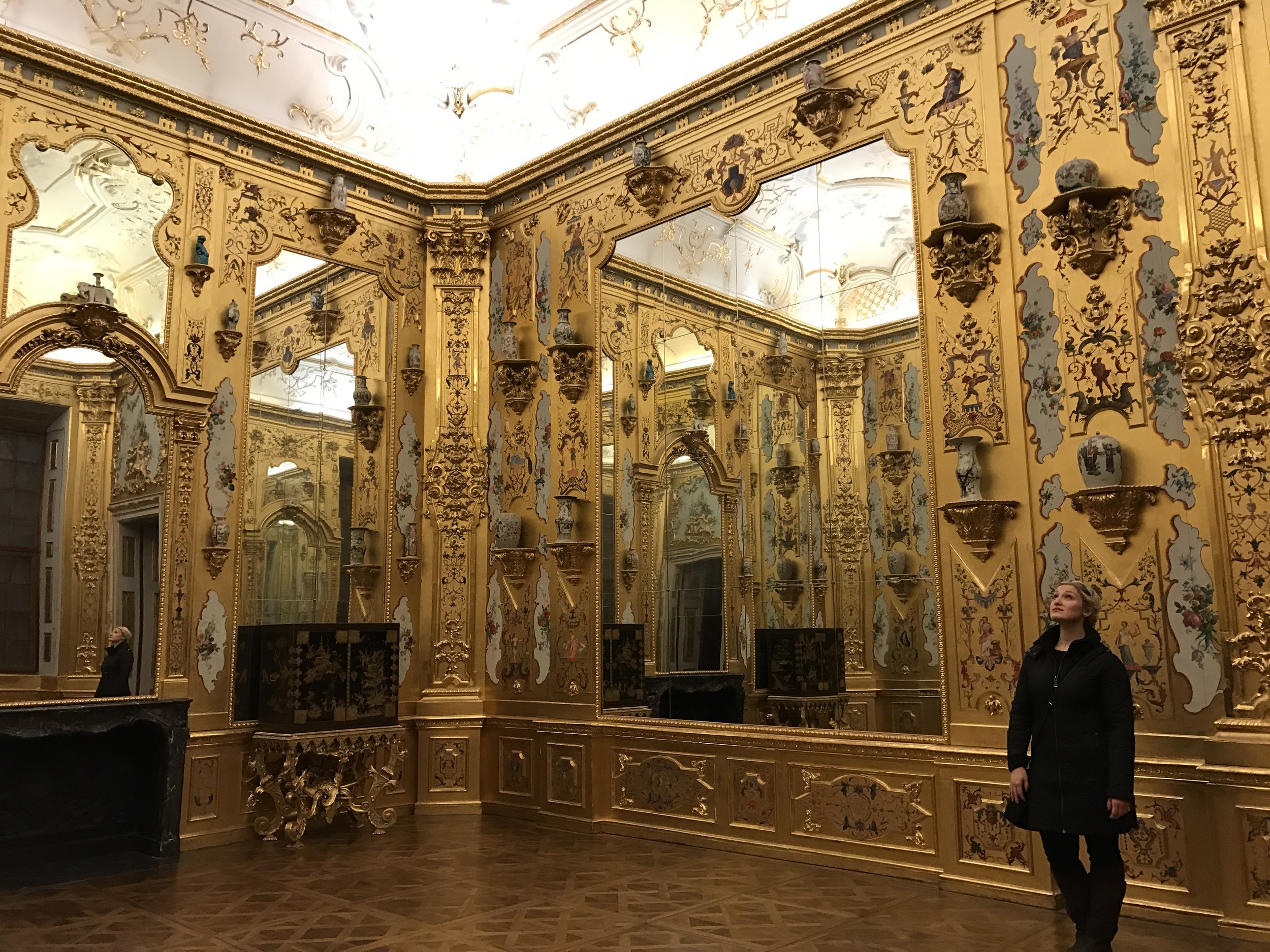 While we were up in this Karlsplatz area, we went over to the Ferris wheel or the "Eye" for a great view of the city by night!
We ended our day with, of course, food! We found this place called Restaurant Führich for dinner and had a traditional sausage and snaukeraut meal and then it was so good the first time, we had to go back to Hotel Sächer for another sächer torte!

Vienna Day 3 Itinerary
Breakfast
Spanische Hofreitschule (Lipizzaner stallions) | Michaelerplatz 1, 1010 Wien, Austria | 15 € or 13 € with Vienna Pass but can only be purchased at the box office day-of
Sisi Museum | Michaelerkuppel, 1010 Wien, Austria | 15,90 € or 12,90 € with Vienna Pass
Café Diglas | Wollzeile 10, 1010 Wien, Austria
St. Stephen's Cathedral | Stephansplatz 3, 1010 Wien, Austria | Free to enter but paid tours
Upper & Lower Belvedere Palace | Prinz Eugen-Straße 27, 1030 Wien, Austria | 20 € or free with Vienna Pass
Giant Ferris Wheel in Wiener Prater | Riesenradplatz 5, | 10 € or free with Vienna Pass |
Restaurant Führich | Führichgasse 6, 1010 Wien, Austria |
Hotel Sacher for dessert at the Café Sacher Vienna | Philharmoniker Str. 4, 1010 Wien, Austria | 7,10 €

Vienna Day 4
Our last full day in Vienna started off by heading to the Naschmarkt! The Naschmarkt is a street market of sorts that has it's roots back to the 1700s! Now, more updated, it includes food vendors, antiques, clothing, flowers and local artisans. It's the perfect way to start your day, lulling through the different booths and stands. They also have these semi-permanent looking restaurants where you can stop for a plethora of food from French crepes to traditional Viennese food to asian cuisine.
We snacked on some baked goods while we strolled through the different booths and enjoyed the peaceful morning and decided to head to the Karlskirche Cathedral which was right around the corner, and then come back afterwards for a mulled wine and snack.
The Karlskirche is a massive and gorgeous cathedral. It's completely different in style and feel that St. Stephen's we visited the day before. Karlskirche is entirely white and gold with the most incredible frescoed dome ceiling, it's stunning. One unique feature of this cathedral is that they've built a lift in the middle that brings you all the way to the top of the dome in the cathedral. Not only does this give you incredible views of the city, but you get an up close and personal view of hand-painted frescos in a way rarely get to.
The fresco's are just breath taking. I can't even imagine an artist painting these hundreds of years ago, I mean it's just mind blowing!
Following out time at the cathedral, we headed back to the Naschmarkt for a mulled wine and a sandwich at one of the little shops. Is it just me, or does mulled wine taste better in Europe?!
After our time in the market area, we took the metro back towards Stephensplatz and I popped in the cathedral one more time, it was that impressive! However it was just a pit stop on our way to an iconic spot for a little treat (do you get the theme here —- lots of walking to eat/drink and all sugar and carbs ha).
Café Central is an absolutely iconic and beautiful café that dates back to 1876. We brought books with us and spent quite a long time sipping tea and nibbling on the absolutely delectable desserts and sweets. This is what you dream of what you dream of a Viennese coffee house; relaxing, not rushing, reading a good book with a scrumptious treat. It was the perfect ending to a wonderful and fairytale trip.
Vienna Day 4 Itinerary
Breakfast at Naschmarkt | 1060 Vienna, Austria | free to walk around
Karlskirche | Kreuzherrengasse 1, 1040 Wien, Austria | 8 € includes panoramic lift
St. Stephen's Cathedral | Stephansplatz 3, 1010 Wien, Austria | Free to enter but paid tours
Café Central | Herrengasse 14, 1010 Wien, Austria