Girls Weekend trip to Quebec City
Have you ever seen Quebec City? You probably have seen photos of the city but didn't realize it as in Canada! That's because this little gem of a city looks like it was snatched from France. If you can't get over to France, but want a little morsel of French living, Quebec will give you that feeling. I have been to Quebec multiple times but I've always wanted to attend the Carnaval de Glâce or also called the Carnaval de Québec. What is Carnaval you ask? It's basically a winter festival that celebrates all things snow, ice and cold that takes place in Quebec City. Taking place all throughout the historical center of the city it has a plethora of activities from an ice slide, ice castles, maple syrup candy making, ice canoe racing, dancing, and of course lots of local delectables and treats.
My Mom hasn't had the opportunity to travel to Quebec with me so we decided to take a long weekend in February and attend together as a girls trip! It was (incredibly) cold, which we knew going into it, but dang they weren't lying about the temperature dipping into frigid temps. I'm going to create a packing guide and share that later this week, to assist in your packing for your winter destination!
We had a great weekend together walking through the French style streets, ducking in and out of café's for hot chocolate, and enjoying the winter wonderland. I hope you can use this guide to help you plan your little getaway to Québec City!
QuÉbec Day 1
We opted to fly in from the United States to Montreal. We arrived in the late morning and after collecting our rental car we made our way to downtown Montreal to see a few sites. Parking is a pain in downtown Montreal just FYI, so we had to park in one of those pay lots (and probably spent way too much money to do so) but at least it was downtown. Our first stop was grabbing lunch and we popped into Pizzeria Bros which I had been to before because yay they have a gluten free pizza crust! They also have a really good sauce called rosé sauce which appears to be a mix of marinara and some white sauce.
Just down the street from the pizza shop was our first stop Notre-Dame Basilica of Montreal. An absolutely eye-catching, colorful and brilliant cathedral. You step inside from the cold and are welcomed by the sense of incense and candle wicks burning. They only take cash at the little door, so make sure you have either CAD or USD with you. Take time to wait for one of the guided tours, they provide some wonderful information and history about the church and the city.
Following our time in the cathedral, we walked down a few of the main thoroughfares in town: Rue Notre-Dame, Rue Saint-Jacques and Saint-Paul W and popped in and out of store and shops. Take time to wander around the side streets too, because sometimes you stumble across the best little spots.
One of the places we came across was Le Petit Dep, a whimsical coffee shop, bakery, and gourmet shop. First off, it's an Instagram photo dream (ha) but it's also a bakery and coffee shop! Seriously - look at how cute this is! Thirdly—- they have gluten free bakery items! Triple win :)
After our coffee and a gluten free treat, we had to start the three-hour drive Northeast to Quebec City. We stayed at this cute little hotel called Hôtel du Vieux-Québec which was perfectly located downtown so we could park our car for the rest of the trip and walk everywhere. It was cute and cosy and the staff spoke English so you don't have to worry if your French isn't up to par. The bed was comfy, the heat worked well, they provided an electric tea kettle in the room, and also had a common area where you could get hot chocolate and board games. It does not have breakfast included in the room rate. We weren't even hungry for dinner so we elected to head to bed and start bright and early the next day.
Day 1 Itinerary
Lunch at Pizzeria Bros | 13 Notre-Dame St W, Montreal, QC H2Y 1S9, Canada
Notre-Dame Basilica of Montreal | 110 Notre-Dame St W, Montreal, QC H2Y 1T2, Canada | $8
Le Petit Dep |
Drive to Québec City
Hotel: Hôtel du Vieux-Québec | 1190 Rue Saint-Jean, Québec, QC G1R 1S6, Canada


QuÉbec Day 2
We started our morning off by bundling up and walking to find a place for breakfast. Finding gluten free breakfast items, especially in a foreign country, is difficult. We stopped at Baguette & Chocolat where mom got a croissant for herself and I just had a cup of piping hot tea as they didn't have any gluten free options.
Our end destination was the Fairmont Le Château Frontenac but along the way there were some cute photo opps that we couldn't resit. The entire town felt like a Christmas Hallmark movie, all decorated and charming. Ice sculptures dotted the streets along with garland, twinkling lights and lots of festive decorations.
Throughout our entire trip we found that we could only stand to be outside for short periods of time (it was around 0ºF and tad windy) so we found that we would walk around for a bit but then would have to thaw out inside. One of the places we stopped into was the Notre-Dame de Québec Basilica-Cathedral. If you follow any of my other travel adventures, you know I love going inside cathedrals and such while traveling, I find them so peaceful and so intertwined with history and culture.
After a few pit stops on our way, we finally made it to Château Frontenac and went inside. This is the iconic hotel you see in any advertisement of Québec or the Fairmont properties honestly. It's nestled high on a hill behind the walled cities of Québec City and overlooks the St-Lawrence River and the other side of Québec. You can go into the lobby, visit the shops, eat at one of the restaurants and explore a little of the ground and first floor.
Outside there is an old fashioned boardwalk of sorts that overlooks the Petite Champlain area below, but during the Carnaval de Québec it also hosts a few activities such as the ice slide. The river you overlook, the St. Lawrence, is where they host ice canoeing competitions as well. It's completely nuts but these crazy enthusiasts hop in canoes and have to batter through the ice and get to the other side. We didn't see it this time, but I've heard it's crazy and people fall into the water occasionally. Yikes!
We took the stairs down to the Petit Champlain (a historic district of shops and restaurants), but you could also take the Funiculaire du Vieux-Québec which is like a vertical elevator from the top of the hill down to the base. To catch the stairs head towards pavilion building and you'll see a set of steep stairs going down. While we were walking we came across a popcorn shop which was one of our best finds actually, the chocolate cover popcorn mixed with the carmael was to die for! Plus overall it's fun to see the little shops and views along the way.
Oh and if you're in town for the Carnaval, you will see the mascot, Bonhomme all over the place. He's that giant white Michelin-man looking creature behind me here :) There is a real mascot walking around somewhere, maybe you'll stumble across him too for a photo app! There are tons of activities for the Carnaval including maple syrup candy making, ice sculptures and parades so you may come across those along your way.
Lunch was at the adorable Le Lapin Sauté which if you read French means the sautéed rabbit (I know, I tried not to think about it…and yes they serve rabbit). Not only was the storefront absolutely charming, but inside was cosy complete with a real fire in the fireplace. For lunch we both had a cup of mulled wine and a steaming gooey bowl of French onion soup that was fabulous.
Following our warm lunch we spent the rest of the afternoon popping in and out of shops, stopping for a hot chocolate, and capturing some cute little moments. We stopped back to our hotel to put on a few more layers for the evening because it was going to be even colder, eek! Then we set out to walk to the ice castles and monuments. It was a short walk, just right outside the city walls to find the castle (can you tell we were freezing?! Even us Minnesota girls were cold). The location of the castles vary by year, so check the schedule for where they're at when you attend.
The last thing we wanted to do that night was see Quartier Petit Champlain by night and all the Christmas lights lit up. Wow! It did not disappoint. It felt like we were walking on a set of a Hallmark Christmas movie - cue the attractive 30-something, independently wealthy, looking for love but doesn't know it yet guy please :) Ha. Seriously though, it was so fun to see by night. We even stopped for a shot of Caribou - the traditional drink of the Carnaval. Not sure really what it is, it's definitely alcohol, but it reminded me slightly of spiked cough syrup ha. When in Québec though… Most of the shops were closing or closed at that time, so really we were just there to see the adorable French streets.
Basically frozen at this point, we waddled back to our hotel to have dinner next door at Bistro Tournebroche where we had the Canadian delicacy - poutine! It was even gluten free yay! Oh and we also had a fabulous meat and cheese board along with a glass of wine. It was a nice and cosy evening to a fun day in the great north!
Day 2 Itinerary
Coffee at Baguette & Chocolat | 36 Côte de la Fabrique, Québec, QC G1R 3V3, Canada
Notre-Dame de Québec Basilica-Cathedral | 16 Rue De Buade, Québec, QC G1R 4A1, Canada
Fairmont Le Château Frontenac | 1 Rue des Carrières, Québec, QC G1R 4P5, Canada
Quartier Petit Champlain | 61 Rue du Petit Champlain, Québec, QC G1K 4H5, Canada
Le Lapin Sauté | 52 Rue du Petit Champlain, Québec, QC G1K 4H4, Canada
Hotel to change and bundle up more
Walk around an explore by night - check out the ice castle
Quartier Petit Champlain | 61 Rue du Petit Champlain, Québec, QC G1K 4H5, Canada
Dinner at Bistro Tournebroche | 1190 Rue Saint-Jean, Québec, QC G1R 1S6, Canada (connected to the hotel - no coat required)


QuÉbec Day 3
Our final day in Québec started with breakfast pastries and tea at Café La Maison Smith. Honestly we sat there for a while and people watched out the window and enjoyed our relaxing morning. Our plans for the day were to stop into some of the shops we wanted to purchase some items and maybe stop back through the Château, so super low key. I found a cute pair of thick socks that I wanted to go back for as well as a nice pair of gloves, so we bummed around those few shops. Oh and this little guy was too cute —- I didn't buy him, but was so tempted!
The café wasn't far from the Château so we stopped back inside for one more look around of the pretty lobby and such. The views from the upper deck by the Château are seriously incredible. The weather was a clear and crisp day, so the views were pretty expansive.
We had an early lunch at the iconic Restaurant Parmesan. I don't know how to explain it other than an eclectic Italian style and traditional food in the middle of French Canada. I've been here several times with colleagues over the year and it's become an icon in the area.
Following lunch we had to return to our hotel and check-out because we were driving back to Montreal that afternoon with a pit stop at something I'd been wanting to do for years - Hôtel de Glace! Its sort of on your way out of Québec City, so we made time for a stop there. There were a few things I wasn't aware of, like that it was in the backyard of a real hotel. Not only was it a hotel, it was a water park inside! On top of that, the hotel resort was situated on a skiing hill so you could ski and tube as well. I always pictured the hotel out in the middle of no where, but it turns out it's got a lot of modern amenities right there.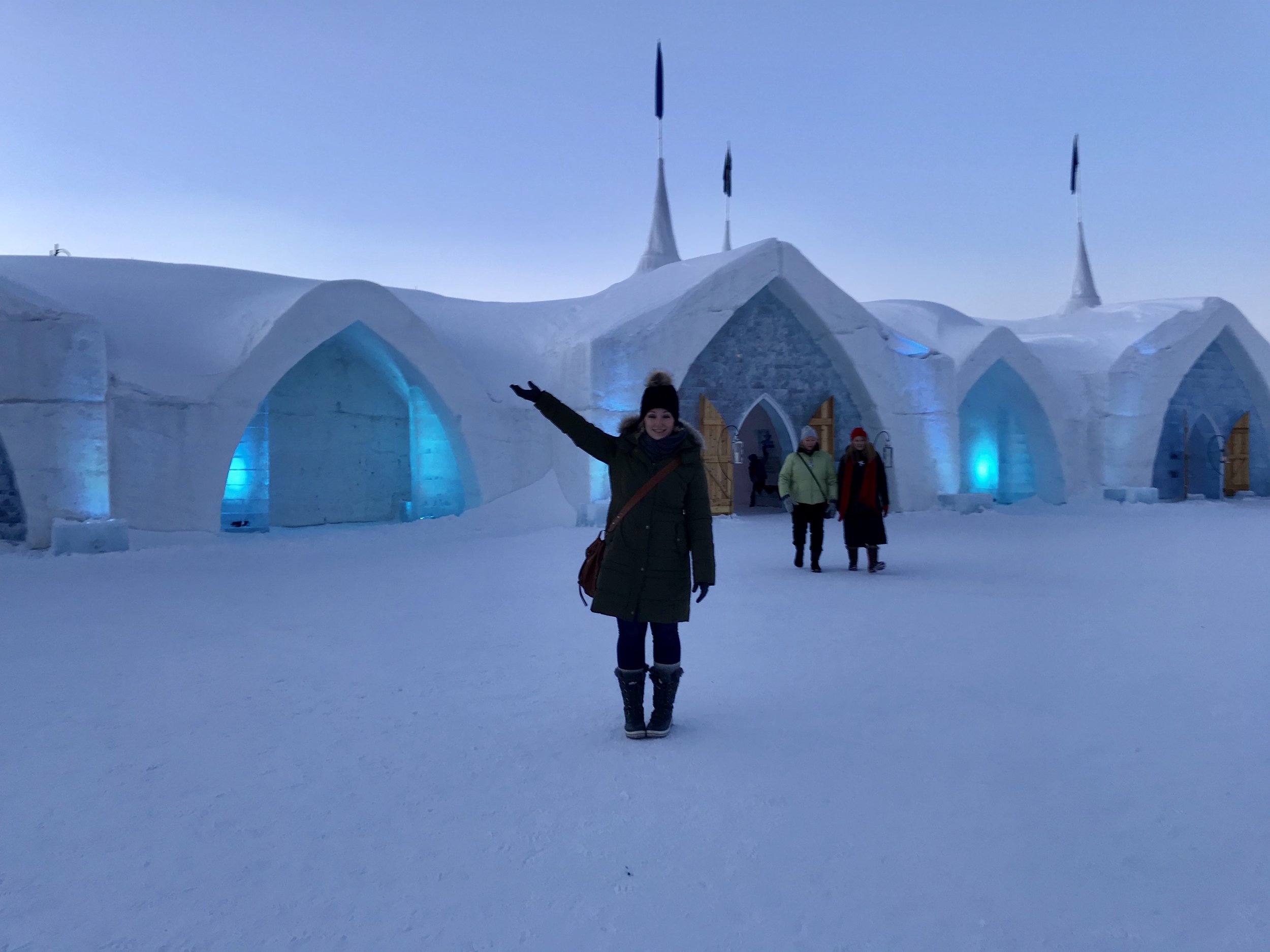 You pay to even be allowed to go out into the back to see the ice hotel, so you have to stop at a kiosk before you head back for a ticket. However they had a few different packages. We opted for the package that included access to the hotel and a complimentary drink at the ice bar. When we walked out to the ice hotel they were congregating for an English-led tour, so we hopped in on that as well which was SO worth it because they brought you into some of the rooms and told you facts and history along the way.
Seriously, this is one of the coolest things I had ever done. The ice bar was epic, literally everything was made of ice including the tables, the bar top, the stools and of course the glasses. We absolutely loved it…and we even saw a bride and her husband who had just gotten married in the chapel; talk about a unique ending to a trip.
After our time there, we drove back to Montreal, returned the rental car, and stayed at hotel close to the airport for our very early flight back home the next morning.

Day 3 Itinerary
Café La Maison Smith| 9 Rue des Jardins, Québec, QC G1R 4L4, Canada
Fairmont Le Château Frontenac | 1 Rue des Carrières, Québec, QC G1R 4P5, Canada
Shopping in Quartier Petit Champlain
Restaurant Parmesan | 38 rue Saint-Louis, Quebec City, Quebec G1R 3Z1, Canada
Hôtel de Glace | 1860, boulevard Valcartier Saint-Gabriel-de-Valcartier, QC G0A 4S0 | $21 entry


Leave a comment below if you've ever stayed at the Hôtel de Glace… or if you ever would :) Enjoy the beautiful winter excursion!